Your network is working fine. But is it secure? In an e-business world, that's a critical question. According to the Computer Security Institute, a third of companies using firewalls still get hacked. The result can be a loss of business, lawsuits and bad publicity, among other consequences. How's your security?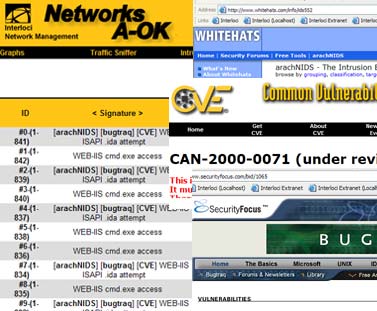 SoftShadowSecurity's PlzMayI Intrusion Detection system is based on award winning SNORT developed by Martin Roesch. It integrates all the top Vulnerability Assessment forums such as White Hat, CVE, CERT etc., to ensure the latest attack signatures are being compared to traffic in your network. PlzMayI has integrated this world class intrusion system into our dashboard so it is easier to use. There are 2 levels of use; the base system and the expert version. Both are provided and available depending on the user's skill level. A user group is also available to develop skills in this burgeoning field.
Intrusion detection comes with PlzMayI in the all inclusive price and includes:
Single click source, destination, individual IP intrusion alert data; individual port, TCP, ICMP, UDP and combined alert data all in real time and historical. Preset graphs, top 5, etc. provides the tools to identify, track and act on malicious events.
Real-time monitoring of all known attack signatures, which provides an immediate and in-depth assessment of detected intrusions with CVE information for remedial action.
Selectable intrusion alert notification, which can immediately alert network managers by email, pager about intrusions but not overwhelm them with false positives.
A MUST HAVE INSURANCE POLICY FOR CIO's AND NETWORK PROFESSIONALS.