SoftShadowSecurity's Device Status Dashboard allows users to view the data from multiple locations, using a scrollbar.

This allows customers to view network status by geographic location or by department, regardless of whether the device to be monitored is located at the same facility or thousands of miles.


Up and Down Dashboard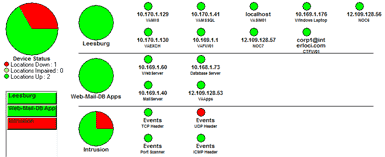 The Device Status Dashboard allows you to quickly determine what devices are up or down, while the Network Performance Dashboard provides information such as bandwidth utilization, memory usage, CPU usage, and latency information.
SoftShadowSecurity's Dashboard can tell you in a glance the status of your network and devices. Regardless of whether you are new to the field of networking or a seasoned networking professional, you will find its intuitive design and capabilities a exceptional value for money.
SoftShadowSecurity's PlzMayI Dashboard simplifies network monitoring and troubleshooting, by providing you with real-time reporting, historical reporting, alerting, and case reporting (trouble-ticketing) on a single appliance.
Performance Dashboard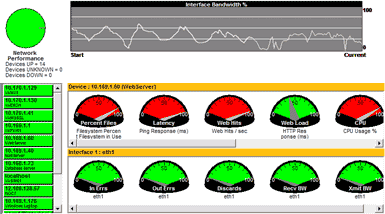 The PlzMayI Dashboard provides an intuitive output look for reporting and function setting for thresholds, alerts, etc. for device, application monitoring and intrusion detection. This feature coupled with automatic network discovery makes this the easiest to use appliance in the industry at a fraction of the cost of equivalent solutions.