Security Management with PlzMayI
PlzMayI™ is the industry's only integrated, automated security management solution that protects against data theft while maintaining the productivity potential of each computer's USB ports.
Your network is working fine - and yet every computer desktop and server is unlocked at the USB port, putting your organization's data at risk for theft. Data that contains:

Data loss results in:
Loss of control over sensitive information
Public exposure of security or compliance events
Damaged reputation and loss of revenue
PlzMayI allows you to Assess, Prevent, and Track the potential for data theft.
Immediately improve intrusion detection
Prevent casual theft
Track malicious behavior, by user & system
Easily manage and control sensitive data
Close the gap in complying with HIPAA, SOX and other regulations
Reduce organization loss of intellectual property
Thwart competitive attacks
Your organization's intellectual property is walking away…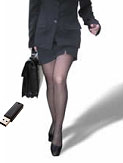 At what cost?
PlzMayI™ - Data Security Peace of Mind
Assess - Track - Prevent - Report
PlzMayI automatically assesses the risk of theft and notifies administrators when potential theft behavior is noticed. In addition, PlzMayI automatically prevents theft by reminding users of policies against stealing data, disabling users who are not in compliance, and tracking users who copy information from computer systems.
Fast, easy installation
Plug those USB port security holes instantly for "day zero" insight into previously unmanaged USB ports. No policies to manually set and reset; no cumbersome configurations!
Automated USB theft reporting and baselining
Out-of-the-box reports document and summarize user behaviors and all content removed for quick theft management insight Baselining provides understanding of threats in addition to continual monitoring and security management.
Real-time insight into content removal
PlzMayI automatically manages all USB ports in your network for data theft. When potential theft is detected, alarms notify administrators to take action.
Forensic digital trace (includes file names)
PlzMayI records transactions (USB Sessions) as they happen, providing a forensic digital trace identifying who copied what and when, allowing organizations to reconstruct the data theft.
Interrupt and stop USB sessions
The PlzMayI/PlzMayI combination is powerful enough to eject devices that do not meet corporate standards and even stop USB download sessions, preventing people from stealing sensitive data.

Appliance-based solution
Integrated within the Networks AOK appliance, PlzMayI simplifies this security management challenge in one affordable solution.

The "final mile" in real-time security management
PlzMayI provides real-time security management for USB ports while maintaining the productivity promise of their functionality - PlzMayI does not disable USB functionality, it manages it.