PlzMayI can act as a Central Syslog Server for your network. Each device Syslog can be viewed through the dashboard. Pattern matches on the Syslog can be set to raise alerts as and when a event is logged in the Syslog.
SoftShadowSecurity's Syslog Monitoring allows users to easily monitor and view their device syslogs.
SoftShadowSecurity's Syslog Monitoring uses pattern-matching to monitor device logs and send an alert via e-mail or pager, in the event of a message matching the text that the administrator has specified.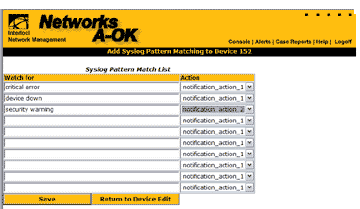 The Adminstrator simply enters the text to look for and alert to be sent in the event that a pattern match occurs, and PlzMayIs AOK takes care of the rest.
MIS personnel no longer have to search through device syslogs to discover if an event has occurred, but can be notified immediately when it happens, in time to take corrective action.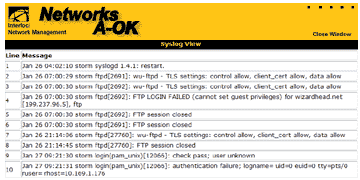 Because the syslog information is stored on the PlzMayI appliance, personnel no longer have to log on to individual servers and other devices to view indivdiual syslogs. Administrators and other MIS personnel can view both the alerts and the syslogs, on PlzMayI from anywhere using PlzMayI easy-to-use web-based interface.